Through our online portal, IBOS members can access everything they need from a centralised dashboard. From easily looking up IBOS banks by country or group to accessing detailed information about each member, our member platform makes international collaboration easier.
Make the most of various online resources
Easily view and manage existing referrals, authorised signatories and account information
Broadcast important messages and updates to larger groups of members
Access relevant contacts for each IBOS bank
Review all portal users associated with your bank
Our online platform enables member banks to overcome the cross-border banking issues which are manifesting in the wake of Brexit, as well as the ongoing pandemic. Members now have access to an international banking portal, with all of the necessary information collated in one place.
This saves members banks and their customers the hassle of international banking in a time of increasing uncertainty in the financial sector. It also means that members can offer their customers a seamless international banking service, regardless of where they are located.
First of its kind in the financial sector, our internal member has successfully streamlined the process of opening an overseas account through a domestic branch. This innovative online platform was created exclusively for IBOS members to help our network function more competently. In line with advancements in technology, we've kitted out our portal with greater online capabilities which offers our members a better way of processing and tracking referrals.
Designed to make the process of opening an account abroad simpler and more efficient for underlying clients, our online tool has enabled IBOS members keep referrals on track. As a result, our member banks are processing more referrals, generating incremental business and enhancing the client experience.
Country Profiles
Access a detailed overview of all the member banks IBOS works with in each country, including a breakdown of all the services that they offer, such as Payments, Reporting, Zero Balance capabilities, and pricing, as well as each bank's unique Account Opening Criteria and Process. View this information online, or export it as a PDF to share with local customers looking to open an account in the particular country.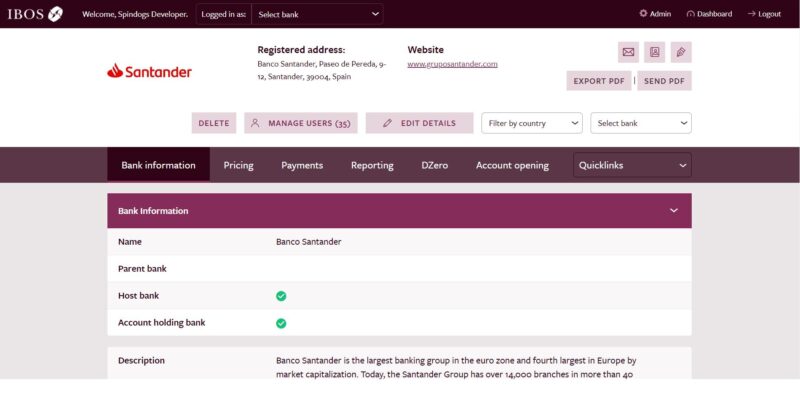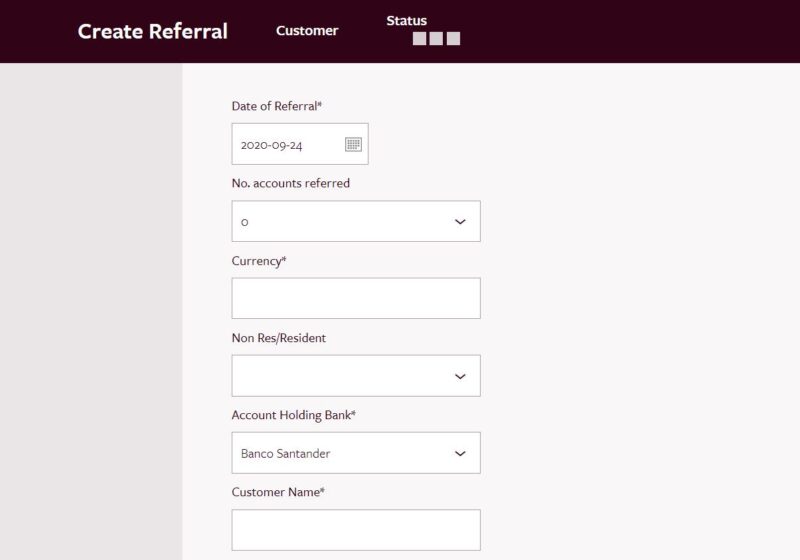 Referral Reporting
Member banks can create, manage and complete referrals using a secure Referral Reporting tool. Tracked each referral from initial notification, through KYC/AML/UBO due diligence to the account opening.
Status Updates
Status Updates are recorded at each step of the account opening process, creating an audit trail which both the Host Bank initiating the referral and the Account Holding Bank can access as they complete their Due Diligence prior to opening the account for their mutual customer.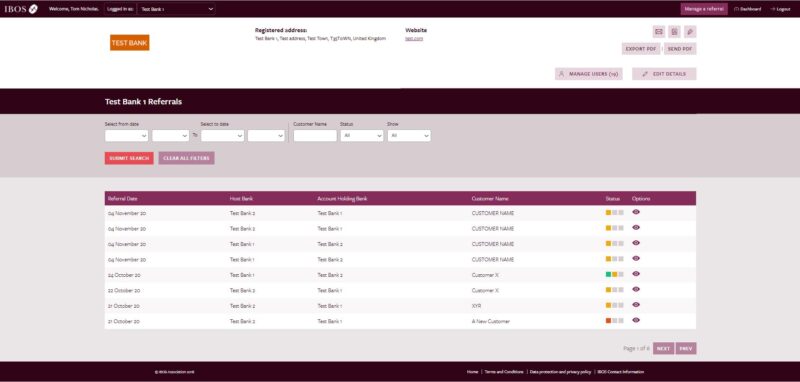 Request a demo
Our web portal is a key component of the technology platform IBOS members use to communicate and refer business. Get in touch with our team to arrange a call and we'd be happy to demonstrate the capabilities of our innovative online system for you.